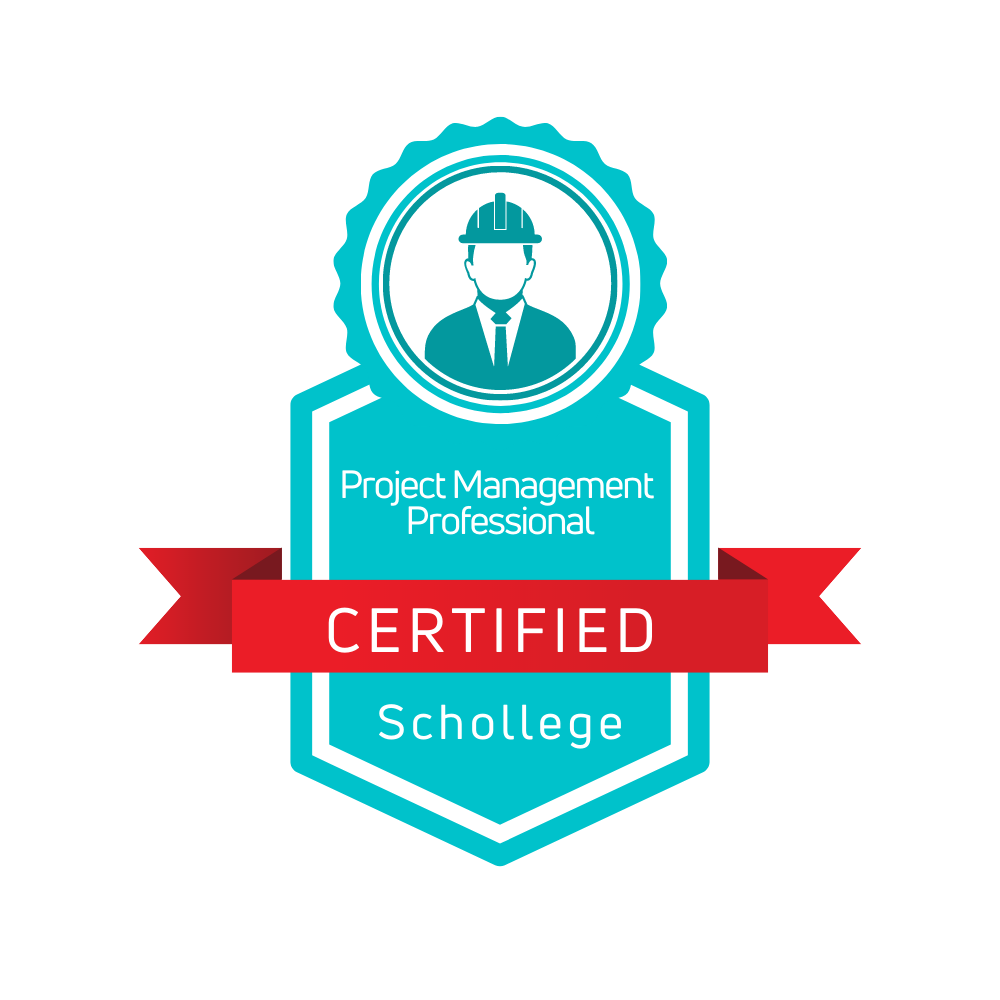 Overview
Project Management is a thrilling profession. Moving from a project to another, a Project manager continuously faces new businesses, new systems and processes, new people, and new cases. Such an active environment helps you learn more all the time and grows your skills much faster than standard jobs do.
The Certified Project Management Professional program is a foundation-level learning approach to help you kick off your career in project management. The course equips you to work in various roles across different industries. This is a skill with growing demand from employers – the Project Management Institute estimates 33% growth in project management career as technology persists in developing over coming years.
Our program is carefully designed to support anyone in building knowledge and skills, growing confidence, and managing projects independently!
Project management is no longer only for megaprojects worth hundreds of thousands of dollars. Small projects can benefit from project management tools. These time-tested tools can help you to get that small project done well, done under budget, and done on time. This workshop is not intended for those looking to be certified as project managers but rather for those who complete projects at work from time to time.
In this course, you will gain experience using the most common project management execution tools from Project Tracking Forms, Risk Monitoring Tables to Communications Plans, Change Request Forms, Issues Logs, and Lessons Learned Forms. Your small projects will be more successful than ever!
Show Off Skills With Our Industry-Leading Certificates
Once you complete any of the individual courses, you will receive a "certificate of achievement" from Schollege. Finish all courses and send us an email to request your Program's Final Certificate that you can share with your employers and community.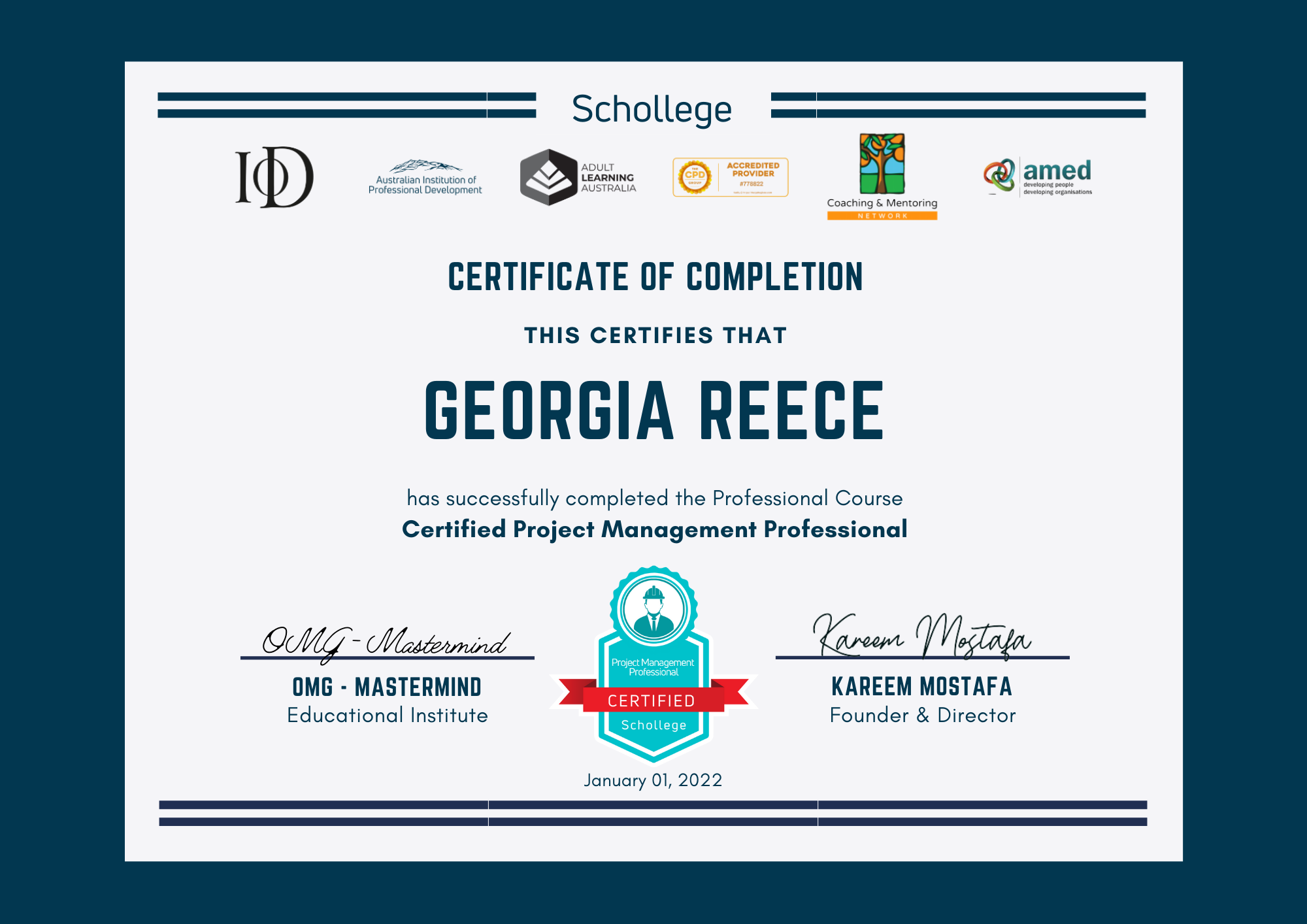 There are 20 Courses included in this Professional Program
Certified Project Managements Professional Curriculum:
01 - Project Management Fundamentals
Project Management Fundamentals as a basic introduction for administrators or supervisors who may be asked to take on project tasks as part of their regular work. This program is intended to familiarize participants with common project management terms, identify the benefits of projects, teach the concepts of project life cycles, prioritizing and setting goals, use some basic, simple planning tools, and explore charters and statements of work.
02 - Intermediate Project Management
For participants who already know about project life cycles, goal setting, creating a vision, and statement of work, this program will be ideal for further skill development. At this level, participants learn to approach projects at a deeper level, and to function within a project team.
Topics include: identifying a project's tasks and resources; prioritizing with the Work Breakdown Structure; using tools such as Gantt charts, PERT diagrams, and network diagrams; identifying and manage risk, change process; and more.
03 - Advanced Project Management
Advanced Project Management trainers provide participants with the critical final tools, skills and techniques that project members and emerging project managers need. Participants should already have a thorough understanding of project management, including topics such as preparing a statement of work, setting project goals, scheduling, budgeting, managing project risks, and executing a project, which can be found in Project Management Fundamentals and Intermediate Project Management training courses. Participants who have completed this course to further develop their skills do not need Advanced Project Management, except as a refresher.
This course will help you teach participants how to: think critically when choosing a project team; make the best of an assigned project team; help teams move through various stages to become a high-functioning unit; maximize productivity at team meetings; reward and motivate a team; develop and execute a communication plan; communicate with sponsors and executives more effectively; identify strategies for working with team members who cause problems.
04 - Risk Management
Managers and business owners know that risk management can reduce the negative impact of crises, and provides measurable benefits and cost savings. Our course offers a risk management framework that is flexible and works with any organization. It can be applied to a single project, a department, or an enterprise-wide risk management program. With this course, you'll learn about:
What risk and risk management are
Establishing a risk management context
A framework for risk management activities
Designing and completing a basic risk assessment
Determining appropriate response and action plan for risk response
Reporting, monitoring, and evaluation
05 - Vendor Management Essentials
Most companies buy from vendors, and to ensure maximum value to a business, it's important to know how to manage them. Vendors can also affect the performance of the business buying from them. Having an effective vendor management process is essential in today's business world.
This course will outline a vendor management process, including a vendor policy document, developing key performance indicators, assessing potential vendor risk, describing components of a vendor contract, and monitoring the performance and relationship of vendors using questionnaires, forms and auditing.
06 - Time Management
This course will teach participants to develop skills that include how to organize themselves and their workspace for peak efficiency; how to set and achieve goals; how to identify what's important and create action plans to get things done; and, how to delegate properly.
07 - Successfully Managing Change
Successfully managing change involves taking concrete steps to make change more palatable by understanding people's hesitation, enlisting the help of others, setting up plans, and dealing with stressors. These steps can also ensure that desired changes are implemented successfully.
Successfully Managing Change courseware and training materials are designed for everyone in the workplace who needs a course that teaches how to manage and cope with change and how to help those around them, too.
08 - Delegation: The Art of Delegating Effectively
There's a great deal more to delegating than simply passing extra work off to others. This training course teaches supervisors and managers the skills they need to effectively delegate and ultimately, accomplish more. Delegation: The Art of Delegating Effectively addresses the many facets of this subject, including when to delegate and to whom, the process of assigning work to others, and techniques used to overcome problems.
Participants will learn valuable skills, including:
Clearly identifying how delegation fits into their job and how it can make them more successful
Identifying different ways of delegating tasks
Giving better instructions for better delegation results
Monitoring results
Giving effective feedback
09 - Hiring for Success: Behavioral Interviewing Techniques
This course will teach hiring managers to refine their interview skills and methods in order to ultimately choose the right candidate for the job.
Finding the right person for a company is an important factor in business growth, and it can be a very expensive undertaking. How do you separate the good from the great, when they have similar work experience and strengths to offer? This workshop will help managers develop the necessary competencies to ask the appropriate questions, and thereby determine the fit of potential candidates.
Specific skill development includes: recognizing the costs incurred by an organization when a wrong hiring decision is made; developing a fair and consistent interviewing process for selecting employees; preparing better job advertisements and using a variety of markets; developing a job analysis and position profile; using traditional, behavioral, achievement oriented, holistic, and situational (critical incident) interview questions; effectively interviewing difficult applicants; and understanding basic employment and human rights laws that can affect the hiring process.
10 - Leadership Skills for Supervisors
Leadership Skills for Supervisors takes a unique perspective on the hot topic of management skills. We've designed a course that teaches participants the essential skills of leadership: communication, coaching, and managing conflict. Perfect for those who are new to a supervisor role, Leadership Skills for Supervisors provides lessons in prioritizing, planning and managing time; identifying your primary leadership style; determining ways to meet the needs of employees; and exploring ways to solve problems.
11 - Logistics and Supply Chain Management
In the US, supply chain and logistic activities account for 8.5 per cent of the country's GDP. That translates to $1.33 trillion — a huge expense for businesses and a huge market for companies that service the supply chain sector.
We've designed an interactive, engaging program that covers everything from supply chain basics to cutting-edge trends. Participants will walk away from the course ready to optimize their organization's supply chain and give them a competitive advantage in today's fast-moving marketplace.
12 - Team Building: Developing High Performance Teams
This intensive, advanced skills course — Trainers of Team Building: Developing High Performance Teams — will empower workplace leaders to take their teams to the next level. Learners will really get to know their teams, define different team types, improve teamwork by thoroughly understanding and applying the characteristics of effective teams, and much more. The result will be a leader who employs practical, tested techniques that develop trust and rapport, who is able to push their team forward, beyond average engagement levels and into superior performance results. We have included advanced sessions on dealing with conflict, and understanding how action planning and analysis will help teams to achieve better results.
13 - Being a Team Player
Most people like to think of themselves as good team players, but are you? Your personal success depends, to a large degree, on how well you support others.
Being a Team Player is a six-session course that teaches about the desirable characteristics of a team player, how to recognize one, different types of teams and which ones are essential to every organization. It then covers why teams falter, and how to better ensure success.
14 - Workplace Health and Safety: The Supervisor's Role and Responsibilities
Workplace Health and Safety: The Supervisor's Role and Responsibilities provides an overview of what supervisors need to know about health and safety in their workplace.
This course aims to help those who are in charge learn how to safeguard themselves and their employees. It will explore the requirements of due diligence, the rights of workers, supervisor and worker health and safety requirements, employee competency, and the role of health and safety committees. The course will also look at supervisors' roles in hazard identification and control, accident reporting and investigation and the importance of communicating health and safety information.
15 - Communication Strategies
Communication Strategies will provide participants with an understanding of the impact that their communication skills can have on others, while exploring the different ways in which developing these skills can make it easier for them to succeed in the office and beyond.
This course includes: identification of common communication problems; developing skills to ask questions; learning what their non-verbal messages are saying; developing skills in listening actively and empathetically to others; enhancing the ability to handle difficult situations; and dealing with situations assertively.
16 - Creative Thinking And Innovation
It's not uncommon to hear people claim that they aren't creative. The reality is that most of us simply don't recognize the ways that we're being creative on a daily basis. Whether it's stretching a tight budget at work or deciding who to invite to a project launch, there is a great deal of creativity involved in achieving success in business. Boosting creativity and innovation takes practice, and honing creative skills is a process. This course will teach participants how to:
Recognize their own creativity
Develop their own creative environment
Explain the importance of creativity and innovation in business
Apply problem-solving steps and tools
Use individual and group techniques to help generate creative ideas
Implement creative ideas
17 - Critical Thinking
Developing skills to effectively reason through problems and to present arguments in a logical, compelling way is a necessity in today's world. This course will give participants some practical tools and hands-on experience.
Participants learn how to:
Define critical and non-critical thinking
Identify their thinking style(s), including areas of strength and improvement
Work through the process to build or analyze arguments
Improve key skills, including active listening and questioning
Use analytical thought systems and creative thinking techniques
Prepare and present powerful arguments
18 - Problem Solving and Decision Making
In this course, trainers will help participants develop their skills in Problem-Solving and Decision-Making. This training course includes skill development exercises that include learning to apply problem-solving steps and tools, analyzing information to clearly describe problems, thinking creatively, being a contributing member of a problem solving team, selecting the best approach for making decisions, creating a plan for implementing, evaluating, and following up on decisions, and how to avoid common decision-making mistakes.
19 - Negotiating for Results
Negotiating is about resolving differences. People who can master the process of negotiation find they can save time and money, and develop a higher degree of satisfaction with outcomes at home and at work. Whether working on a project or fulfilling support duties, this course will provide a basic comfort level to negotiate in any situation. This interactive workshop includes techniques to promote effective communication and provides techniques for turning face-to-face confrontation into side-by-side problem-solving.
In this course, participants will learn about the essential elements of negotiation, including preparation, delivery, and techniques to develop their communication skills, with the goal of creating sustainable agreements with others.
20 - Effective Planning And Scheduling
Trainers working with project managers and team leaders know how challenging it can be to accurately determine the duration of a project, yet that is exactly what is expected on a regular basis! This training course will not disclose the secret of creating an accurate schedule, because there isn't one. However, it will provide the factors and fundamental elements that people need to consider and address when creating any type of schedule.
Participants should complete the Intermediate Project Management course prior to this course, or have equivalent knowledge, in order to capitalize on the best learning experience possible.
Check your inbox to confirm your subscription