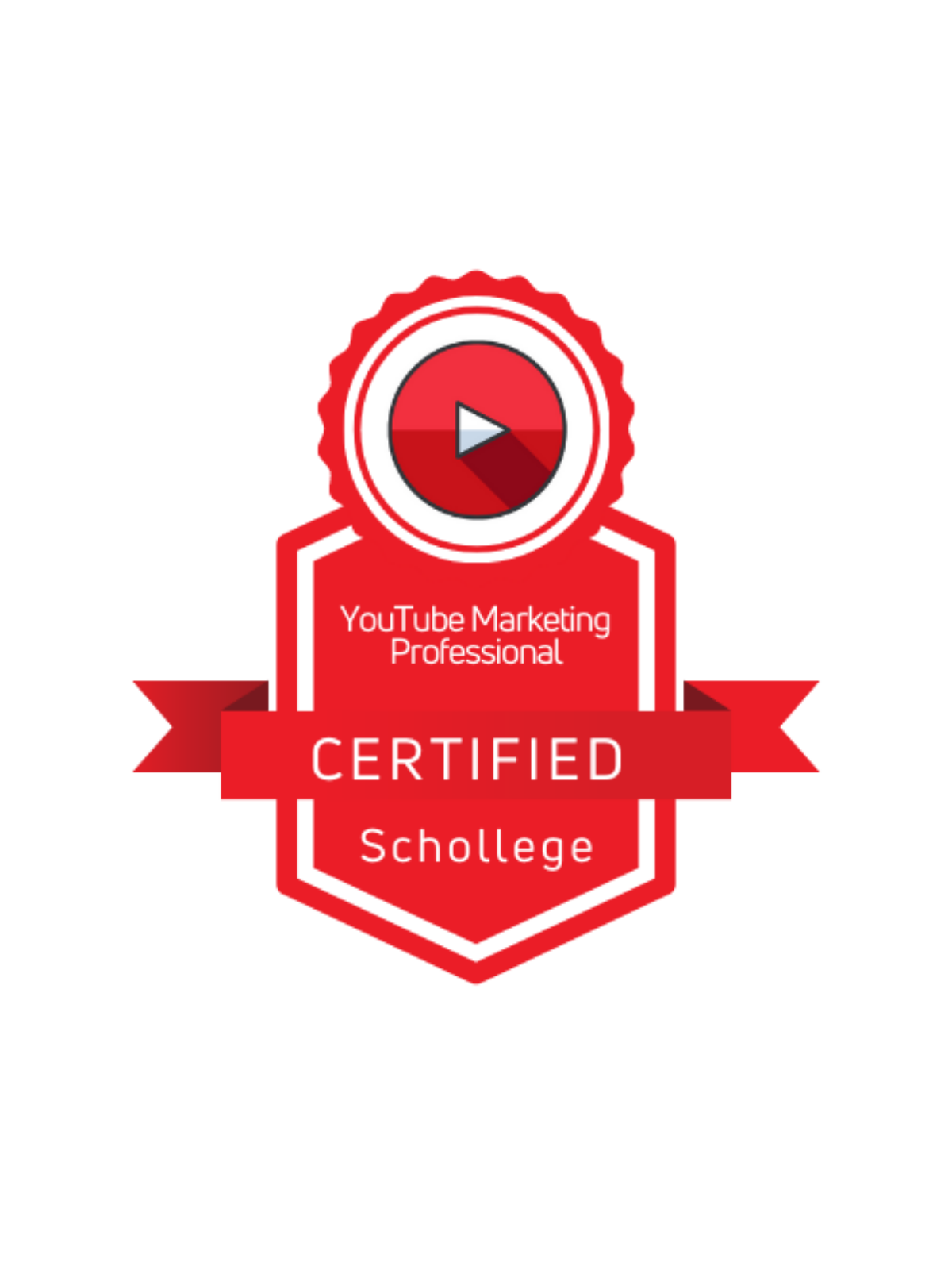 What you'll learn
Help you to enhance your YouTube marketing campaigns & boost brand awareness.
Generate a continuous network of profitable leads through YouTube
Create tons of professional connections with fewer efforts using YouTube Marketing techniques.
Get massive social exposure for your brand through YouTube Marketing.
Strengthen long-term relationships with your YouTube Business customers
Get a higher ROI from your YouTube marketing efforts.
$175
CYMP
Certifies YouTube Marketing Professional
Requirements
YouTube channel (we'll show you how to create it on the course)
Description
Doing business with YouTube has become the best technique for success, hungry marketers, to make the most from their marketing efforts, and if not given adequate importance to, it can prove fatal for your business. Not only does it give you more opportunities to enhance your credibility, but you can easily stay on top of the minds of your targeted audience on a long-term basis.
YouTube Marketing is the hidden key to generate tons of targeted traffic to your business & boost ROI in a convenient manner.
Welcome to our YouTube Business Training, designed to take you by the hand and walk you through the process of getting the most out of YouTube on behalf of your business.
This exclusive training will show you step-by-step, topic by topic, and tool by tool, what you need to know to dominate YouTube, in the easiest way possible, using the most effective tools and in the shortest time ever.
With its proper use, you can easily drive laser targeted traffic to your website and boost conversions in a cost-effective manner.
And, MOST IMPORTANTLY, You'll discover Premium YouTube business tools & services to boost sales and profits.
Well, this is proven, tried and tested method and...
It works today…
It will work tomorrow…
It will work for months and years to come…
It works for product creators
It works for service providers
It works for me and will work for you
it's time for you to start getting the most out of YouTube, on behalf of your business.
I know you'll love this training.
Who this course is for:
Anyone looking to grow their own brand and business using YouTube Marketing
Businesses Owners wanting to grow their brand and increase revenue with YouTube
Marketers who want to know how to start video marketing on YouTube


$175
CYMP
Certifies YouTube Marketing Professional
OMG - Mastermind
Featured Most Popular Home Business Instructors on Udemy.
We help Professionals turn their skills, knowledge & passion into a thriving online course & coaching business.
Earned Best selling courses, and featured as one of the most popular instructors in Home Business Category in 2017 and 2018 on Udemy, with over 120,000 students over +250,000 enrollments.
Our mission at OMG - Mastermind is to provide a friendly learning environment with high-quality courses. We focus on empowering our courses attendees by providing the necessary information and knowledge to help reach their goals. With our uniquely efficient and straightforward approach, participants can start applying their newly acquired skills after as soon as they finish our courses.​
LEARN. EARN. THRIVE.