Overview
PRINCE2 ® Foundation online is a learning solution created to meet the demands of our customers The Foundation elements are taught via our comprehensive e learning material This style of delivery saves you and your company time and money.
Our accredited PRINCE 2 ® Online Learning training course provides a quality platform for gaining skills, sharing experiences and learning from other organisations while offering the flexibility as to how and when you learn.
The aim of this course is to provide delegates with sufficient knowledge and understanding of the PRINCE 2 ® method to be able to work effectively with, or as a member of, a project management team working within an environment supporting PRINCE 2 ® The Foundation qualification is also a prerequisite for the Practitioner qualification
By the end of the course a delegate should understand the structure and key terminology of the method Specifically the delegate should understand:
The characteristics and context of a project and the benefits of adopting PRINCE 2 ®
The purpose of the PRINCE 2 ® roles, management products and themes
The PRINCE 2 ® principles
The purpose, objectives and context of the PRINCE 2 ® processes

How Does it Work?
Enroll and apply by paying the course fee on Schollege. Schollege is a PROJstudy™ Authorized Training Partner. 
You will receive your enrollment confirmation and PROJstudy access information via email within 24hrs of enrollment.
Access the online course
Enroll with Interest-Free
Monthly Payments
No Credit Checks - 0% Interest - No Application or Registration - No late Fees - Instant Approval - Works with your existing Credit
We have partnered with Splitit to turn your purchase into smaller, bite-sized payments.
Click Here for more information about Splitit, and if you are happy to proceed, send us an email and ask for an Installment Plan.
You will receive a temporary link that will give you a choice to pay with up to 12 months interest-free monthly payments.
After finalising the payment process, you will receive your enrolment confirmation and access information via email with the next steps, within 36 hours or at the specified course's commencement date.
Installments starts from less than $50 / month
Who this course is for
This course is aimed at project managers, project management consultants and aspiring project managers It is also relevant to other key staff involved in the design, development and delivery of projects who are required, or wish, to have a greater depth of knowledge of the method, including:
Project Board members
Senior Responsible Owners
Project Sponsors
Team Managers
Product Delivery Managers
Business Analysts
Subject matter experts delivering, or providing expertise to, a project
Project Assurance
Business Change Analysts
Change Board members
Auditors
Project Support
Project Office support staff
Program Office personnel
Prerequisites
There are no formal prerequisites for this course However, it is expected that delegates will possess knowledge of projects or have experience of working in a project environment This is to ensure that the intensive nature of the course does not cause delegates to struggle through the course.
Examination Guidelines
The PRINCE 2 ® Foundation examination is a closed book 60 minute 75 multiple choice question paper with 5 questions to be trial and not counted in scores The pass mark is 50% (35 marks required to pass out of 70 available)
What is included 
Study guides including Video tutorials: Study as you prefer using PDF files, video tutorials, HTML format or podcasts. Explain the goals, objectives, scope and detailed concepts of PRINCE 2 ® principles, themes and processes and other syllabus areas of PRINCE 2
Podcasts: Download it and listen to it at your convenience
Interactive Case Study: Professor Bubbleman App to help you apply the concepts learnt in real life scenarios.
Glossary: A PDF glossary provided to help you revise quickly.
Crossword: Test your knowledge and have some fun doing it.
Phone App: Download a very effective phone app to study on your mobile.
Chapter Tests and Evaluation Tests: These tests assess the delegate's degree of understanding of the respective chapter content
Sample Papers: To get a feel of the actual PRINCE 2 Foundation and Practitioner exam, take the full length sample papers as part of our online course and assess your responses with the provided answers to the same.
Trainer Support: Email support by experienced accredited trainers during the duration of the course and post course.
Methodology
ONLINE FOUNDATION TRAINING MODEL
Foundation Study Materials:
Pre-prep (Fill in the Blanks) - Five days: The pre-prep course comprises of fill in the blanks on all the 19 chapters of the PRINCE2® manual 'Managing Successful Projects with PRINCE2'. It introduces the PRINCE2 concepts and terminology to the delegates. It also introduces to the delegates the four aspects of PRINCE2: principles, themes, processes, and tailoring PRINCE2.
Study guides - Thirty Five days: Explain the principles, themes, processes and other syllabus areas of PRINCE2 from "Managing Successful Projects with PRINCE2".
Chapter tests - Twenty days: The Chapter Tests assess the delegate's degree of understanding of the respective chapter content.
PeopleCert Sample Test : The sample tests provided by PeopleCert give the delegates a feel of the actual PRINCE2 exam and help them to decide whether they are ready to take the PRINCE2 exam.
The delegates can however allocate days of study different from the above recommendation depending upon their individual aptitude, skill sets, experience, and levels of comprehension.
Study the PRINCE2 Manual: Before you start the PROJstudy PRINCE2 online course, it is strongly recommended to go through the PRINCE2 Manual and understand the basic themes, processes and Principles used as per the PRINCE2 methodology.
Study the Chapter guides available at PROJstudy.com: For a thorough understanding of the PRINCE2 concepts, themes, processes and principles, study exclusive PROJstudy study guides.
Take the Chapter Tests for each chapter: For helping the delegates to practice what they have studied through the PROJstudy study guides and PRINCE2 Manual. Our online courses include chapter tests which examine the delegate's understanding of PRINCE2 concepts and reinforce the same through extensive justifications.
Take a full length sample test from PeopleCert: To get a feel of the actual PRINCE2 Foundation exam, take the PeopleCert's full length sample tests as part of our online courses and assess your responses with the provided answers to the same.
You are ready to take the PRINCE2 Foundation Certification Exam.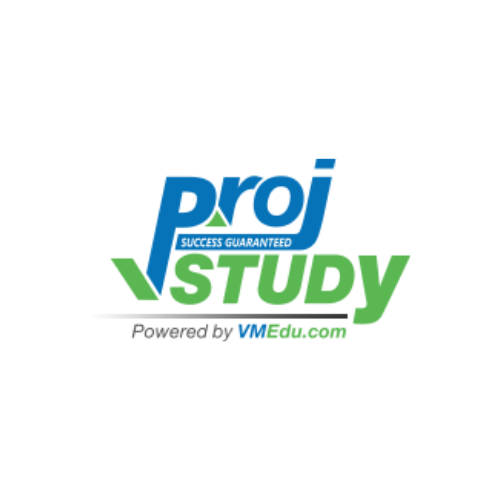 PROJstudy™
Powered by VMEdu
PROJstudy, an Edusys Services Private Limited brand, is among the select group of Accredited Training Organizations (ATO) accredited by the APM Group, UK.
PROJstudy specializes in conducting quality classroom training programs to prepare delegates for PRINCE2® Foundation and Practitioner certifications.
We are the most successful and most popular project management training provider globally. We have trained more than 1 Lakh+ successful project managers for various project management courses including PRINCE2 ®, PMP, CAPM etc.
We have a presence globally in over 160+ countries with delegates from over 3500 companies.