Overview
Scaled Scrum Master Certified (SSMC™)Large projects require multiple Scrum Teams to work in parallel. The Chief Scrum Master is responsible for coordinating activities of multiple Scrum Teams to develop potentially shippable product increments/deliverables. The Chief Scrum Master fosters collaboration and coaches others with the implementation of Scrum for a smooth delivery of the project's products. Apart from clearing impediments and ensuring a conducive project environment for the Scrum Teams, the Chief Scrum Master collaborates with the Chief Product Owner, other Scrum Masters, and Product Owners in activities such as developing the list of components and resources needed in common for all teams throughout the project.
Successful candidates will be awarded the Scaled Scrum Master Certified (SSMC™) certification by SCRUMstudy™ after passing the certification exam.
Enroll with Interest-Free
Monthly Payments
No Credit Checks - 0% Interest - No Application or Registration - No late Fees - Instant Approval - Works with your existing Credit
We have partnered with Splitit to turn your purchase into smaller, bite-sized payments.
Click Here for more information about Splitit, and if you are happy to proceed, send us an email and ask for an Installment Plan.
You will receive a temporary link that will give you a choice to pay with up to 12 months interest-free monthly payments.
After finalising the payment process, you will receive your enrolment confirmation and access information via email with the next steps, within 36 hours or at the specified course's commencement date.
Installments starts from less than $59 / month
Who this course is for
This certification is appropriate for anyone who is interested in becoming a Chief Scrum Master.
Prerequisites
It is mandatory to complete the Scrum Master Certified (SMC®) certification before applying for the Scaled Scrum Master certification.
Exam Format
Multiple choice
70 questions per exam
No negative marks for wrong answers
90 minutes duration
Proctored online exam
Course Objectives 
SSMC™ is an advanced-level certification for professionals who are working as or are interested to work as Chief Scrum Masters, Program Scrum Masters, or Portfolio Scrum Masters.
The objective of this certification is to confirm that the applicants have sufficient expertise to coordinate and facilitate the working of multiple Scrum Teams at projects, programs and portfolios levels. 
Course Outcomes
Students will readily recognize, define, and work with the concepts, advantages, and challenges of the Scrum Framework.
Students will be prepared to play the role of Chief Scrum Master or Program Scrum Master or Portfolio Scrum Master in their organizations and help their organizations adopt the Scrum Framework. Furthermore, students will develop an understanding of the other roles in Scrum.
Students will gain knowledge pertaining to and the ability to anticipate issues related to the practical implementation of Scrum.
Students will be armed with the proper tools to address, resolve, and take the lead on Scrum issues in their organizations.
Students will be provided access to an online exam. After passing the exam, each student's certificate will be mailed to him or her.
Course Methodology
We promise a highly engaging course that ensures high retention of concepts and theories.
Students are encouraged to work through the concepts rather than just listen to them—this provides better internalization and retention.
Students work through a case study to simulate product development using the Scrum Framework. 
Maintaining Certification
To maintain the certification status, Scrum Product Owner Certified (SPOC™) professionals will need to earn 40 re-certification credits every 3 years.
How Does it Work?
Enroll and apply by paying the course fee on Schollege. Schollege is a SCRUMstudy™ Authorized Training Partner. 
You will receive your enrolment confirmation and SCRUMstudy access information via email within 24hrs of enrollment.
Access the online course and take the exam 
Get a Copy of SBOK™ Guide online version.
Schedule the proctored exam.
SCRUMstudy verifies the application; confirms the exam date & time
Take the proctored exam online.
Upon successful completion of the exam, get an online certificate.
Your name will be added to the SCRUMstudy Certification Registry.
If unable to pass the exam, you can schedule again and take a maximum of two free exam retakes.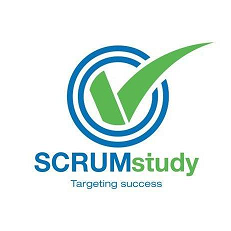 SCRUMstudy™
Powered by VMEdu
SCRUMstudy™ is the global accreditation body for Scrum and Agile certifications. It has authored the SBOK® Guide as a comprehensive guide to deliver successful projects using Scrum.
SCRUMstudy™ works through its large global partner network of Authorized Training Providers (A.T.P.s) to deliver trainings and certifications.
Important certifications provided by SCRUMstudy™ include Scrum Fundamentals Certified(SFC™), Scrum Developer Certified (SDC®), Scrum Master Certified (SMC®), Scaled Scrum Master Certified (SSMC™),
SCRUMstudy Agile Master Certified (SAMC™), Scrum Product Owner Certified (SPOC®), Scaled Scrum Product Owner Certified (SSPOC™) and Expert Scrum Master Certified (ESMC™)